Tips for Expats: Landing an IT Job in Dubai's Competitive Market
Dubai is a thriving hub for technology and innovation. Its ever-evolving landscape provides a wealth of opportunities for IT professionals looking to make their mark in a competitive job market. Expats seeking IT jobs in Dubai can benefit from a vibrant and dynamic sector, but success often hinges on understanding the nuances of the local job market, visa requirements, cultural considerations, and effective job search strategies.
In this comprehensive guide, we will explore essential tips and strategies for landing an IT job in Dubai as an expatriate.
Trends in Dubai's IT Job Market
Dubai's IT job market has been flourishing in recent years. The city's commitment to becoming a smart city and a global technology hub has led to an increasing demand for IT professionals. The tech industry has witnessed a substantial surge in job openings, experiencing a notable 20% growth.
According to a report from Global Data, the United Arab Emirates ICT market was valued at US$ 36.14 billion in 2022 and will grow at a compounded annual growth rate (CAGR) of 12.46% to reach a value of US$ 65.00 billion by 2027.
Whether you are a software developer, data analyst, cybersecurity expert, or any other IT specialist, you are likely to find numerous opportunities in Dubai's technology sector. However, competition is fierce, and understanding the local landscape is crucial to stand out.
Tips for Expats: Landing an IT Job in Dubai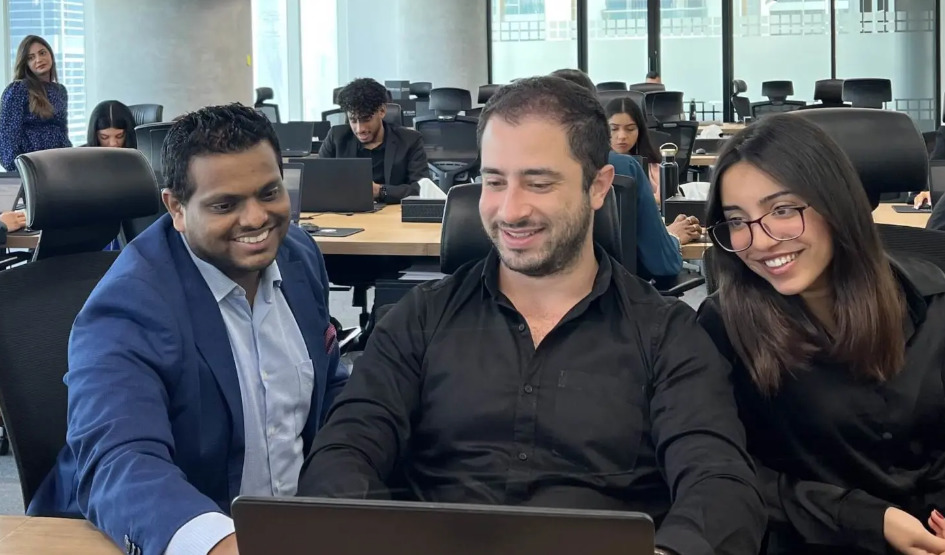 Understand the Local Visa & Legal Requirements
Before you embark on your journey to Dubai, it's essential to familiarize yourself with the visa and legal requirements for expatriates. To work in Dubai, you typically need a work visa sponsored by your prospective employer. Ensure your qualifications and background align with the UAE's visa criteria, and work with your potential employer to navigate the visa application process.
Dubai offers various types of visas for expatriates, including employment, investor, and family sponsorship visas. Each has its requirements and application process. You can find detailed information on the official UAE government website or consult with your prospective employer for guidance.
Types of Work Visas for Expats in Dubai
On September 5, 2022, the United Arab Emirates (UAE) government put into effect fresh immigration guidelines, introducing a novel residency visa system with various new classifications.
According to these recent regulations, the residence permits for employment now encompass two key categories:
Residence permits for contractual employment: These are employer-sponsored residency permits that necessitate approval from the Ministry of Human Resources and Emiratization (MOHRE) and the presence of an employment contract.
Green Visa: This is a self-sponsored residence permit, valid for five years, designed for investors, highly skilled professionals, and freelancers.
Requirements to Obtain a UAE Work Visa
Passport with a photocopy
Passport photos
Emirates ID card
Entry permit from the Ministry of Labour
Medical screening test results
Copy of a company card from the employer
Copy of the company's commercial license
Attend Networking Events
Networking is a powerful tool in Dubai's job market. The city boasts a diverse and multicultural workforce, and networking events are abundant. Attend IT-related events, seminars, and conferences to connect with professionals in your field. Building a strong professional network can open doors to job opportunities and provide valuable insights into the industry.
Dubai is known for its expat-friendly environment, and many networking events cater to the international community. Look for industry-specific gatherings and professional organizations where you can meet like-minded individuals and potential employers.
Resume & LinkedIn Optimization
Your resume and LinkedIn profile are your digital first impression in the job market. Make sure they reflect your skills, experiences, and aspirations accurately.
Tips for Optimizing Your Resume
Keep it concise and to the point. HR managers often receive a high volume of applications, so a clear, well-organized resume can make a strong impression.
Highlight your relevant skills and achievements. Tailor your resume to match the specific job you're applying for.
Showcase your experience in internationally recognized companies, if applicable. Familiar names on your resume can capture the attention of employers in Dubai.
Tips for LinkedIn Optimization
Create a professional and appealing profile photo. Your photo should be well-lit, in professional attire, and have a friendly expression.
Write a compelling headline and summary. Use these sections to highlight your expertise, career goals, and unique value propositions.
List your skills and endorsements. Having a comprehensive list of skills that are relevant to your field can make your profile more discoverable to recruiters.
Actively engage with industry-related content and professionals. Share, comment, and connect with individuals and groups relevant to your field.
Effective Job Search Strategies
Dubai's job market is vast, and it can be overwhelming. You can make your job search easier by following the strategies given below:
Use online job portals and recruitment agencies: Websites like Bayt, GulfTalent, and LinkedIn can be valuable resources for job seekers. Additionally, consider working with a professional recruitment agency that specializes in the IT sector.
Leverage professional networks: Use your network to identify job openings and gain insights into the job market. Expatriate forums and social media groups can also be helpful for connecting with like-minded individuals.
Apply directly to company websites: Many companies prefer candidates to apply directly through their websites. Be diligent in checking the career sections of companies you are interested in.
Monitor job openings regularly: The job market in Dubai is highly dynamic, with new opportunities arising frequently. Stay updated by regularly checking job portals and company websites.
Interview Preparation Tips
Preparing for job interviews in Dubai is crucial. It's not just about your skills but also your cultural awareness and fit with the organization.
Prepare for Common Questions
Be ready to discuss your qualifications and experiences in detail. Employers in Dubai often seek candidates who can demonstrate expertise.
Understand the company's values and culture. Research the company you are interviewing with, and be prepared to align your responses with their values.
Explain how you can contribute to the company's growth. Dubai companies are often focused on growth, so emphasize how your skills can help achieve this.
Cultural Considerations
Familiarize yourself with local customs and etiquette. Dubai is a diverse and multicultural city, but it's important to respect the local customs and practices.
Respect the working week, which is usually Sunday to Thursday. Ensure you are available for interviews and work during these days.
Dress professionally and modestly. Dubai has a conservative dress code, especially in professional settings. Dress in a manner that reflects professionalism and modesty.
Show enthusiasm and a willingness to adapt. Dubai's work culture values individuals who are open to change and can adapt to new challenges.
Consider the Salaries & Benefits
Research typical salary ranges and benefits for your role and experience level in Dubai. Negotiate your salary and benefits package based on local norms and your expectations. Salaries in Dubai can be competitive, but they also need to account for the high cost of living, especially housing and education for expatriate families. It's essential to strike a balance between a competitive salary and a package that covers your living expenses and provides for your financial goals.
Additionally, benefits such as health insurance, housing allowances, transportation, and education allowances for dependents are common considerations in job offers for expatriates.
Respect Dubai's Workplace Culture
Dubai has a unique work culture that values punctuality, respect, and professionalism. Show your commitment to these values to fit in well with the local work environment. Dubai's work culture emphasizes the importance of maintaining a respectful and professional demeanor in all professional interactions.
When it comes to punctuality, arriving on time for meetings and appointments is considered a sign of professionalism. Lateness is generally frowned upon and can reflect poorly on your work ethic. Additionally, maintaining a respectful and courteous attitude towards colleagues, superiors, and clients is crucial. The multicultural nature of Dubai's workforce requires a high degree of respect for diverse backgrounds and perspectives.
Conclusion
Landing an IT job in Dubai as an expatriate can be an enriching and fulfilling experience. By understanding the local job market, visa requirements, and cultural considerations, and by optimizing your resume and LinkedIn profile, you can stand out in this competitive landscape.
Effective job search strategies, interview preparation, and a respectful approach to Dubai's workplace culture will further boost your chances of success. Remember, your journey may be challenging, but the rewards are well worth the effort.
Visit our blog at Marc Ellis to learn more about the latest job market and recruitment trends in the IT industry in Dubai.